Zontar, the Thing from Venus
(Larry Buchanan, 1966)
Cast. John Agar (Dr. Curt Taylor), Susan Bjurman (Anne Taylor), Tony Huston (Keith Ritchie), Pat Delaney (Martha Ritchie), Neil Fletcher (Gen. Matt Young), Warren Hammack (John, Zone 6), Colleen Carr (Louise, Zone 6), Jeff Alexander (Rocket Scientist at Zone 6), Bill Thurman (Sheriff Brad Crenshaw), Andrew Traister (Sgt. Magalari), Jonathan Ledford (Gate Guard), George Edgley (Mr. Ledford, Newspaper Editor), Carol Gilley (Alice, Clerk at Zone 6), and Bertha Holmes (Townswoman)
Original. It Conquered the World
(Roger Corman, 1956)
Creature of Destruction
(Larry Buchanan, 1967)
Cast. Les Tremayne (Dr. John Basso), Pat Delaney (Doreena), Aron Kincaid (Capt. Theodore Dell), Neil Fletcher (Sam Crane), Annabelle Weenick (Mrs. Crane), Roger Ready (Lt. Blake), Ron Scott, Suzanne Roy (Lynn Crane), Byron Lord (Investigating psychiatrist/The Creature), and Barnett Shaw (Investigating psychiatrist). Scotty McKay (Singer) also seems to have his own sub-movie going.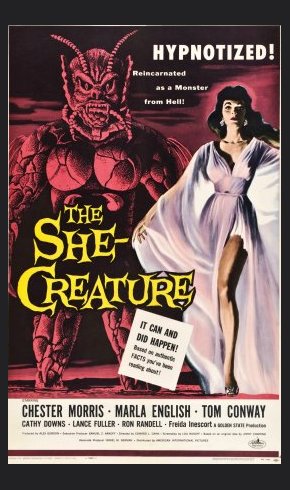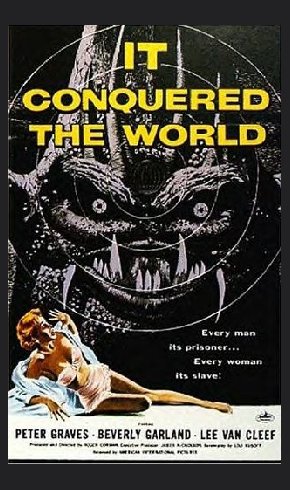 It Conquered the World and The She-Creature were actually released as a double feature in 1956. They were remade as Zontar, the Thing from Venus and Creature of Destruction in 1966 and 1967 to bring them into color and onto color televisions. The original, black-and-white versions are linked above (maybe), and the remakes are embedded.
Management is not responsible for anyone freaking out due to scary overdose.
Open thread.